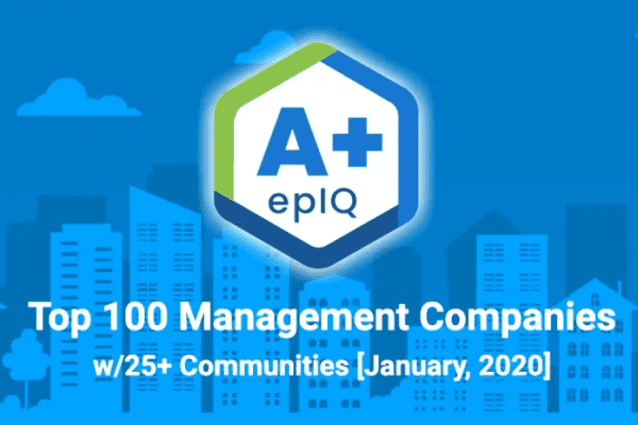 BETHESDA, Md., February 4, 2020 – ROSS Management Services, a leader in multifamily property management in the Mid-Atlantic region, today announced that it has placed in the top 100 Management Companies in the epIQ Index sponsored by Satisfacts and ApartmentRatings. Not only did they make the list, they ranked 24th with an A-grading.
The epIQ list was newly launched this year by SatisFacts in replacement of the "Recommend Score". The epIQ is an aggregate of the following metrics:
Renter ratings (from both reviews and surveys)

Manager review response rate

Review volume

Manager review response time.
"We have no higher priority than resident satisfaction. It is the bedrock of a thriving portfolio," said Dave Miskovich, CEO of ROSS Companies, the parent company of ROSS Management Services. "Everyone at our company – from the onsite team members up to our executive team – comes to work each day with a simple but ambitious goal: to give our residents an incomparable living experience. We are deeply honored by these awards and believe they are a powerful testament to our successful pursuit of this goal."
ROSS Management Services partners with SatisFacts to deliver customer satisfaction surveys to its residents at various touch points during their lease term – at move-in, after every work order and prior to renewal – to determine their satisfaction with the level of service they have received.
"Being a good operator requires being a good listener and keeping the lines of communication with your residents wide open," Miskovich said. "We give our residents numerous opportunities to provide the kind of direct and honest feedback that then enables us to improve their living experience. We take their input very seriously, and we firmly believe that the constant and open communication we have with our residents is the primary driver of our outstanding customer service and our high renewal rates."
For more information about the award and to see a full list of winners visit Satisfacts.com
About ROSS Companies
ROSS Companies was founded in 1983 in Bethesda, Md., with a commitment to becoming the premier owner, operator and renovator of multifamily communities in the Mid-Atlantic region. Today, ROSS Companies is widely respected as a local authority and has partnered with some of the world's most prestigious equity and investment firms. ROSS Companies is a recognized leader in multifamily acquisitions and investment, development, property management and renovation. ROSS Companies is comprised of three aligned affiliates – ROSS Development & Investment, ROSS Management Services and ROSS Renovation & Construction. With a managed portfolio of more than 10,000 apartment homes in over 30 communities, this privately held company is one of the most active multifamily real estate firms in the Mid-Atlantic region, and is recognized for its ability to add value to communities and to drive high levels of resident satisfaction. Using a day-to-day, hands-on approach in dealing with critical components of multifamily acquisition, development, management and renovation, ROSS Companies has the experience and expertise to excel in management of any asset class, including "A" class high-rise, new lease-ups, existing suburban garden apartments and distressed communities.
For more information about ROSS Companies, visit Ross-Companies.com.